Roses! Everybody loves them, but they can be such a fickle flower in the garden. Here are a few tips on a the spectacular, easy care, cold-hardy rose shrub variety "Campfire".
Campfire Rose is a First Editions shrub rose for zone 3 to 7, making it a hardy option for Northern gardeners. Growing 3 ft wide by 3ft tall, this shrub features a compact habitat that fits easily in with new gardens or into well-established landscape.
The flower buds emerge with vibrant, coral reds and yellow swirls. As the flower opens, it blooms with dark pink edges and pale pink petals. As a repeat bloomer, this shrub flowers from early summer until frost. With regular pruning in the early spring to keep your rose shapely, and with consistent dead-heading, this disease resistant shrub will be the highlight of your garden! (These are NOT deer-resistant shrubs! If you are concerned about deer damage, we recommend an easy-to-apply, deer-resistant product called "Deer Scram" available in our garden center.)
We have a new shipment of Campfire Rose in stock! Stop in to pick yours up today, and mention this blog to receive $5 off your purchase!
Here is a quick photo-guide to deadheading:
Step 1. Recognize new flowers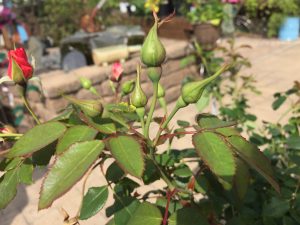 Step 2. Recognize old flowers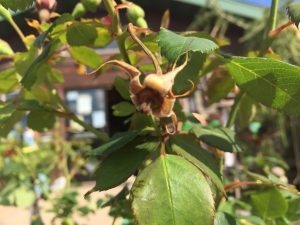 Step 3. Prune old flower clusters back to where new growth begins, or to the first set of 5-leaf stems. (The image below shows new flower buds, however, it is the 5-leaf stem you will look for when dead-heading)