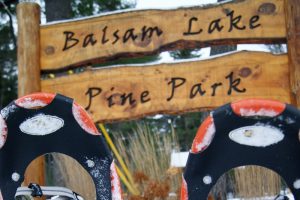 Join us Saturday, February 23, 2019 for our 8th annual 5K trail race!
Plan to join us this coming Saturday for a fun winter activity for all ages! This is a family-friendly, dog-friendly event for everyone who enjoys the outdoors and winter hikes! The Northern Lites Snowshoe Company has sponsored 10 sets of snowshoes for the day of the event – so bring a friend or yourself, even if you don't own a pair of snowshoes! If there are enough demo pairs left and you have your own- but would like to demo their race style snowshoe you certainly can!
Check-in begins Saturday, February 23, 2019 at 9am at the American Legion in Pine Park located at 311 Tuttle Street, Balsam Lake, WI. The registration fee is $20 for both walkers and runners. All proceeds go toward the improvement of Pine Park. Click here to download and print your registration form. Please bring your registration form and race fees on the day of the event.
Each participant receives a goodie bag on race day at registration. The race begins at Pine Park, follows a designated trail route through the beautiful wooded areas surrounding Balsam Lake, and ends on the Mill Pond. Water will be provided before and after the race.
Prizes will be given to the 1st, 2nd, and 3rd place winners for the women's, men's, and kid's division. Door prizes will also be given!
Visit our website at https://balsamlakesnowshoerace.com/ for more event details and our sponsor list!