April Lawn Care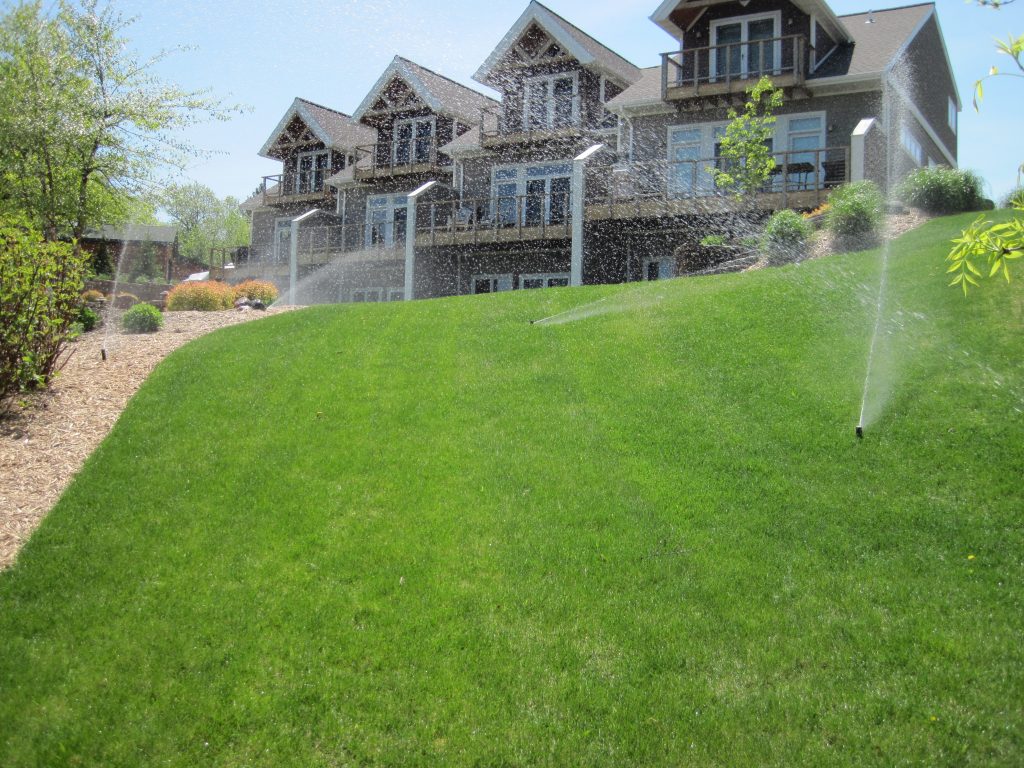 Early spring is the best time to get a head start on lawn and garden care! As our lawns begin to show, we're all excited to see lush green grass growing! April is the best, and in some cases, the only time to weed, fertilize, and seed your lawn!
Crabgrass Control & Fertilizing: Late-April to Early-May is the the only time to apply pre-emergent Crabgrass Preventer to your lawn! Shaw Turf Food with Dimension is a professional-grade, dual-purpose product containing both a crabgrass preventer and the appropriate amount of fertilizer to aid in grass growth while creating a healthy, crabgrass-free lawn! Because it is phosphorus-free, this product is safe to apply at lake homes. Available in our retail center for DIY lawn care, the 50lb bag will cover 12,500 sq. ft.
We also provide professional fertilization and lawn care services! Call us at 715-485-3131 to sign up for a fertilization and/or lawn care program that's right for you!
Watering and Irrigation: As your lawn is uncovered, you may notice winter damage from salt used on driveways and walkways. To restore the health of your soil and grass, flush the area to give your lawn a deep watering once the weather warms. If brown spots persist, apply Gypsum and consider adding seed to those areas.
As grass continues to grow, ensure your lawn receives adequet and consistent moisture. Through our professional landscape services, we install and maintain conventional irrigation systems and lake-pump systems to promote greener, lusher lawns. We also offer irrigation start-up and shut-down services. Call us at 715-485-3131 for more information!
Improving an existing lawn: If you're looking to thicken your lawn, or will be over-seeding an area, here is a season-long program to enhance and enrich your lawn (pounds mentioned covers 1000 sq. ft.):
Late-April – apply 12lbs of Gypsum and 8 Lbs of 15-15-5
End of May – apply 5lbs of 15-15-5
Mid-July – apply 3lbs of 15-15-5
Mid-to-late September – apply 4lbs Winterizer
Growing and maintaining healthy lawns and landscapes is vital for our environment by filtering storm water run-off and improving water quality, reducing air temperatures, and providing essential habitat for wildlife.
For more National Lawn Care Month ideas and information, visit landscapeprofessionals.org.
We're looking forward to opening our greenhouse and the arrival of our annuals, hanging baskets, tropicals, and more in late-April! Our trees, shrubs, and perennials will hopefully arrive in early-May! We're stocking up on our bulk materials for all of your DIY projects including mulch, soil, gravel, and decorative landscape rock.
Give us a call at 715-485-3131 or visit our website balsamlakeprolawn.com for all of your professional landscape, lawn care, garden center, and floral needs!
From all of us at Balsam Lake Pro-Lawn, we wish you a Happy Spring!