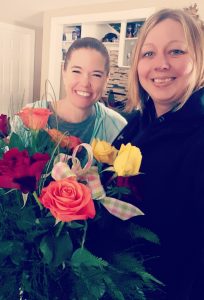 A month ago at this time, we featured our 1st Annual Valentine's Day Contest: those who joined our retail email list became eligible to win a dozen roses on Valentine's Day.
In our first-ever flower giveaway, Christina Lund won this beautiful arrangement! Christina chose to spread the love on Valentine's Day and gave her bouquet to her friend Katy.
Congratulations to Christina and Katy, and thank you to all who signed up for our retail email list! We try to send out monthly emails with updates about new products and plants, greenhouse and floral sales, and seasonal garden / landscape maintenance.
If you do not already receive our monthly emails but are interested in receiving them, please click here to sign up!
We update our Facebook page on a daily basis with specials, sales, and featured products. Please click here to visit our Facebook page, like us, and follow us. To see our information in your Facebook newsfeed, click Following then choose "See First" in the drop-down panel and choose "Notifications On" in that same panel.
We look forward to sharing with you!