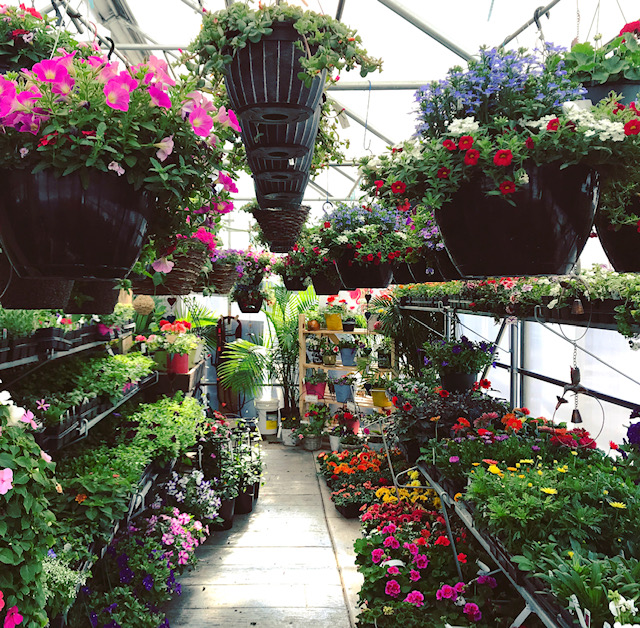 We are open at Balsam Lake Pro-Lawn! Our greenhouse, garden center, lawn care and landscape services are up and running! During this time of uncertainty, we have worked hard to create a safe space in our operations for our customers and staff to practice social distancing. We have a new flow of traffic for our greenhouse and our bulk material lot. See the sections below to learn more!
GREENHOUSE: Our greenhouse is a lush jungle full of flowers and blooms! We have hanging baskets, annuals, bedding flowers, vegetables, patio pots, and garden art! Our show-stopping perennials from our Bud 'n' Bloom program this year include clematis, roses, and hydrangeas. These are big, beautiful bloomers on plants that will return year-after-year!
For greenhouse purchases: Please enter through the greenhouse, pay at the cash register, and leave through the front door of the retail center. To maintain safe social distancing, we ask that only 4 customers be in the greenhouse at one time.
GARDEN CENTER: Come in to see our beautiful selection of flowering trees, fruit trees, shade trees, shrubs, and perennials! We also offer a large selection of bulk products for DIY projects including bagged and bulk mulch, decorative rock, and driveway gravel.
For garden center purchases: Please use the side window of the retail center for your inquiries and purchases.
MOTHER'S DAY: If you're looking to make mother's day special, we've got what you need! Visit us to see our selection, call us at 715-485-3131, or purchase an on-line order at www.balsamlakeprolawn.com. We also make Mother's Day deliveries!
SPRING PROJECTS: Spring is the best time to rejuevinate your landscaping! Re-mulch your beds to give your landscape a fresh look and suppess weeds. Deadhead your perennials and grasses from last year, prune your spireas, and plant those flowers you've always wanted. For lawn care, apply Crabgrass Preventer to keep out those pesky weeds and promote healthy lawn growth. The deer are out looking for food, so apply Deer Scram, Plantskyd, and other animal products now!
From all of us at Balsam Lake Pro-Lawn, we wish you a Happy Mother's Day and a safe, fun, and Happy Spring!
Contact us by phone at 715-485-3131, email info@balsamlakeprolawn.com, or visit our website at www.balsamlakeprolawn.com.