Meet Our Team
Founders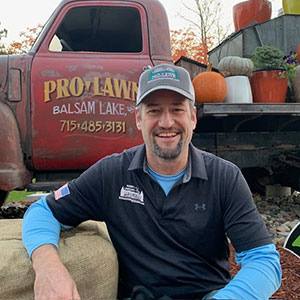 Jon Hol - President/ Project Manager (Start Date 2001): Jon began maintaining lawns in the mid-80's as a means to support his summer waterskiing habits. With part-time help from many friends sharing the same addiction, these accounts carried him through college at St. Cloud State. Jon, Chris and Amanda Founded Balsam Lake Pro-Lawn in 2001 and have been leading the company for more than 21 years. Jon's Fun Facts: His nicknames are Just Jon and Jonyx. His Superhero Power is that he knows what Willis is talking about. He is also Onyx the Dog's Comfort Animal.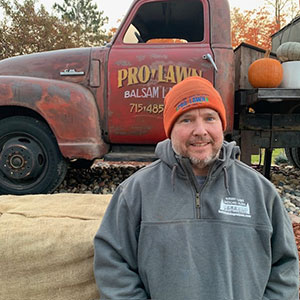 Chris Sondrol - Vice President/ Head of Property Management Dept. (Start Date 2001): Chris met Jon while attending St. Cloud State University, and they instantly became life-long friends. The two became business partners shortly after Balsam Lake Pro-Lawn was established. For more than 20 years, Chris has been managing business operations and directing the lawn care crews. Chris's Fun Facts: His nicknames are Sondy or The Captain. His Superhero Power is agate hunting.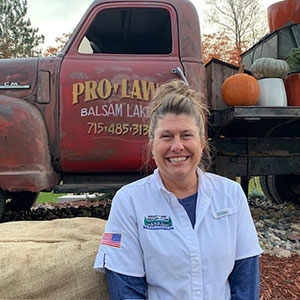 Amanda Hol - Corportate Secretary/ Retail Manager (Start Date 2001): Shortly after Jon and Amanda were married, Amanda completed her training at Koehler and Dramm Institute of Floristry in Minneapolis, MN. Amanda is our lead floral designer and has been handling our daily retail operations since the start. Amanda's Fun Facts: Her nickname is Mandy with a Y. If she had a superhero power.... she would like to be in two places at the same time!

Office Manager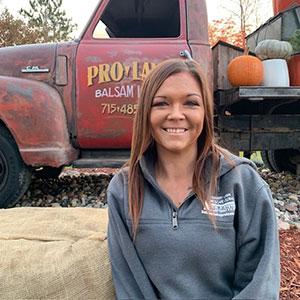 Elissa Hubers - Office Manager (Start Date 2023): One of our newest staff members, Elissa started in the fall of 2023. She has had previous experience facilitating landscape and lawn care business operations. With her great organizational technological skills, she manages our billing and customer accounts. She's looking forward to the seasons ahead. Elissa's Fun Facts: Her nickname is Lis and she enjoys woodworking in her spare time.

Retail Crew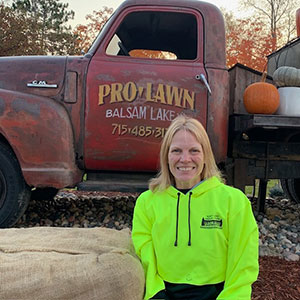 Summer Kelly - Nursery Center Foreman (Start Date 2012): Summer got her start with Balsam Lake Pro-Lawn in 2012, working part time in the field as an enhancement crew member and part-time in the retail center. In 2021, Summer focused all of her efforts on the retail center, earning her MNLA Retail and Garden Center Certification and becoming our full-time Nursery Center Foreman. Summer's Fun Facts: Her nicknames are Sweetie and Sunshine. Her Superhero Power is her incredible ability to blend into any surrounding, making her invisible most of the time.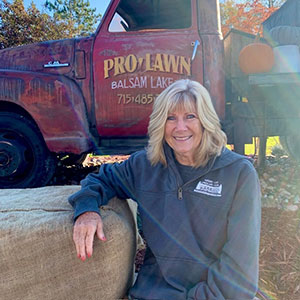 LuAnn Netherland - Designer/Sales Associate (Start Date 2015): For more than 7 years, LuAnn has been dedicated to our Floral and Garden Center. She earned her Floral Certification through Koehler and Dramm shortly after she started with us, and has been working her magic designing beautiful floral arrangements and patio pots ever since. LuAnn's Fun Facts: Her nickname is LuLu. If she had a Superhero Power, she would want to be able to put her arms out like Superman and fly. She also has superhero design and sales skills!!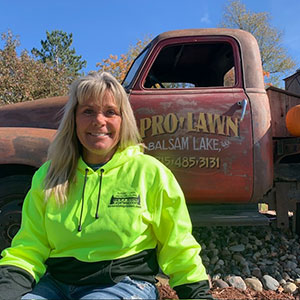 Shirley Ince - Seasonal Sales Associate (Start Date 2022): After retiring from the Unity School District, Shirley has kept herself busy in our garden center. You can find her in the spring watering, organizing, helping guests and planting patio pots with LuAnn. Shirley loves spending her time with her grand kids and being "super grandma"!!!

Landscape Crew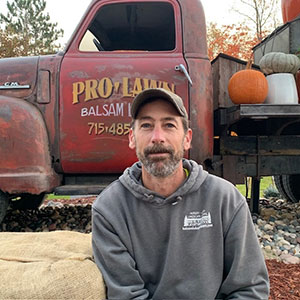 Greg Cloutier - Landscape Foreman (Start Date 2007): Greg has been a lead landscape member for more than 15 years. He is our longest standing employee, and has become one of our most trusted landscape foreman. His knowledge, hard work and dedication are invaluable assets that have helped contribute to the strength and growth of our company. Greg's Fun Facts: His nickname is Crazy Legs and his Superhero Power is his ability to dance to any musice ever created!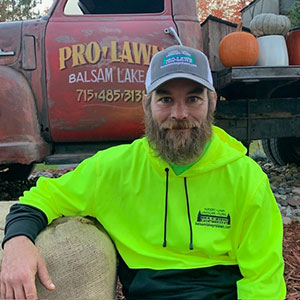 Adrian Davis - Landscape Foreman/ Irrigation Foreman (Start Date 2017): Adrian has been a lead landscaper since 2015. In addition to landscape operations, you will find Adrian starting up irrigation systems in the spring and shutting them down in the fall. Adrian's Fun Facts: He would lke to be like Chuck Norris when he grows up!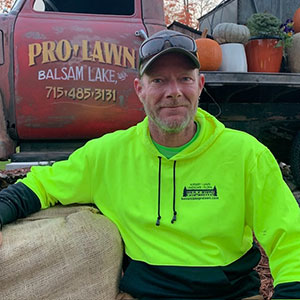 Damon Schmidt - Landscape Foreman (Start Date 2020): Having worked in the landscape industry for nearly 20 years, Damon began landscaping for Balsam Lake Pro-Lawn in 2020. With his knowledge and laid-back personality, he fit right in and quickly became a Landscape Foreman. Damon's Fun Facts: His nickname is Dear Mr. Schmidt. He is THEE best snow shoveler know to mankind.

Lawn Care Crew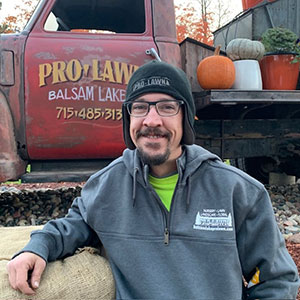 Brad Suckut - Operations Manager (Start Date 2018): Brad started working in our Lawn Care department in 2018. In his never-ending search for knowledge and interest in all aspects of lawn care, Brad worked with Summer in Enhancement for a year learning about plants and landscape maintenance. He continues to use that knowledge to direct and train our Lawn Care Crews. Brad's Fun Facts: If he could be any animal..... he would like to be a bear.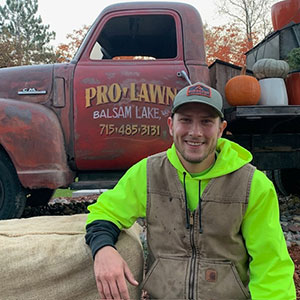 Jace Marek - Fertilization Foreman/ Lawn Care Foreman (Start Date 2016): Jace started on the Lawn Care Crew in 2016. With his proficient attention to detail and versatility, he quickly became a Lawn Care Foreman. As his interest in lawn care expanded, Jace became the Fertilization Foreman. He now balances both lawn care operations and our lawn fertilizing program. Jace's Fun Facts: His Superhero Power is his incredible ability to make grass grow!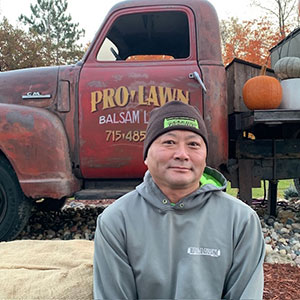 Joey Peper - Lawn Care Crew/ Yard Delivery Associate (Start Date 2017): Having worked for Anderson Windows for 20 Years, Joey decided on a career switch and started with Balsam Lake Pro-Lawn in 2017. Joey has been a dedicated lawn care crew member for more than 5 years. With his trucking experience, Joey also delivers our bulk materials. Joey's Fun Facts: He once ate a 40 oz prime rib in 8 minutes. He also has storytelling Super Powers!

Mascots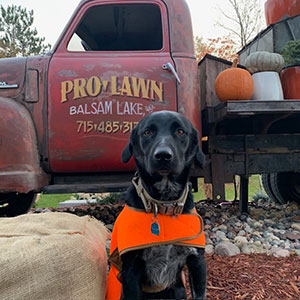 Onyx The Dog - Lead Mascot /Jobsite Protector (Start Date 2020): Onyx is the Hol's Family dog and has become our shop mascot. He is dedicated to his job as Jon's sidekick. Onyx's Fun Facts: His Superpower is the ability to play fetch until he falls over.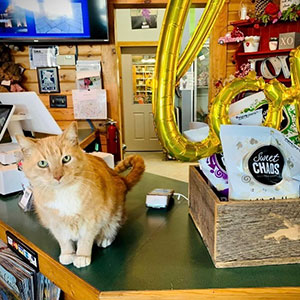 Skids The Cat - Lead Mouser/ Retail Mascot (Start Date 2013): Skids was just a tiny kitten when he came to us from the Flaherty Home! He quickly found his place in the retail center, laying on the counter waiting for customers to come and pet him. Now, he has become part of our primary greeting committee. Skid's Fun Facts: His favorite activities are snuggling and lounging on the perennial benches, startling unsuspecting customers while they browse!
We provide service to Polk and surrounding counties.